MARKETING COMMUNICATIONS MANAGER
Marketing Communications Manager
DE – Wilmington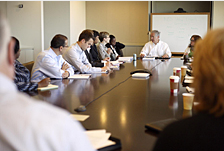 Opportunity Snapshot
Build this new, high-visibility role as a marketing communications expert by bringing your strong knowledge of the necessary tools and tactics for successful communications and marketing to help further develop this area in an exciting, growing company. As the Marketing Communications Manager, you will develop and manage a high-level strategy which includes brand integration and the development of marketing materials for areas such as recruitment advertising and employee engagement. Quick question for you – click here

Within the last 5 years, what role did the following play in your job?
Developing marketing strategies and integrating brand strategies
Comment:

(Your answer will automatically be saved when you submit your application)
You'll have the chance to lead the delivery of multi-media tactics for a variety of internal and external-facing programs.
In this role, you will have the opportunity to share your passion for marketing as you make this area your own, offering solutions and growing the role as you grow with the company. If you are looking for a role where you can be innovative, develop cutting-edge ideas, and take marketing communications to a new level for both the organization and the profession, then we want to hear from you!
Newspaper Support Services, Inc. (NSS) works closely with newspapers to understand their business imperatives and challenges. We help them identify ways to improve their business operations and technological capabilities so that they continue to remain competitive in their markets. Providing newspapers with measurable business results, NSS focuses on increasing cost savings. Our approach is collaborative. We offer business processes, technology support, project management, benchmarking, and analytics that result in cost savings and process improvements.
Pictured: NSS offers an entrepreneurial environment that fosters innovative thinking and creative solutions.

The Requirements
To be a good fit for this opportunity you will have:
A bachelor's degree in business, journalism, marketing/sales, public relations or communications, or a related field
7+ years business experience in the communications, public relations, or marketing arena Quick question for you – click here

Topic: How many years of experience do you have in communications, public relations, or marketing?

Comment:

(Your answer will automatically be saved when you submit your application)

Proven experience in marketing communications and writing
Excellent writing, editing and research skills, with the ability to provide diverse writing samples
http://newspapersupport.jobinfo.com/description.php?jid=9906375&rcid=1035622