Due to an unforeseen business commitment, we must reschedule Steve Rubel's webinar, "Connecting Brand Narratives and New Trends in Marketing and Communications," originally scheduled for January 14th until the following week on Wednesday, January 21st from Noon- 1 pm.  Steve is deeply apologetic about the need to reschedule due to a business matter that was unanticipated and out of his control.
All current registrations for the earlier date will be honored. If you are not able to join us on the new date, please email webmaster@iabcphiladelphia.org and we will process a refund for you.
If you haven't registered yet, there is still time.
Connecting Content, Brand Narratives and New Trends
One of the most critical issues facing marketers and communicators today is the proliferation of content. Join Steve Rubel, executive vice president and chief content strategist for Edelman Public Relations, to learn how to connect all brand narratives and new trends facing marketing and communications.
Webinar: Wednesday, January 21st, 2015 from Noon-1 pm (EST)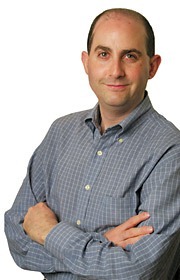 One of the most critical issues facing marketers today is the sheer proliferation of content. How do we connect all brand narratives into a seamless constellation – a self-evident narrative that's easy to find?
Please join IABC Philadelphia for an exclusive lunchtime webinar featuring Steve Rubel, EVP/Chief Content Strategist for Edelman, one of the most in-demand speakers on the future of media and content.
You will learn about:
• How to take advantage of new ways consumers read, watch and listen to content.
• New ways to integrate paid, owned and earned content into seamless content that is easy to find
• Important new trends that will shape the future of the marketing and communications profession.
Steve Rubel is EVP/Chief Content Strategist for Edelman, the world's largest independent public relations firm. Rubel studies the future of media and helps clients unify their communications strategies across traditional, emerging, owned and social channels. Steve is a highly visible thought leader and writer on media, technology and digital culture and appears frequently in the press. He actively shares his observations and insights through his blog, his monthly Advertising Age column, and on Twitter where more than 80,000 people follow him. Steve Rubel has been named to PR Week's "40 Under 40."
Fee: IABC members and students $5, Non-members $15
Register using the EventBrite Widget below.